VIET NAM SHIP SUPPLY is a Ship repair, maintenance, refit, fabrication company with 24 hours service all Vietnam port.
We do carry out all kind of ship repair job of your vessel may require at Vietnam port. Our Qualified engineer, skilled technician & totally well equipped workshop are ready to meet with your every kind of repair requirement such as:
Dry Docking and Repairs activity: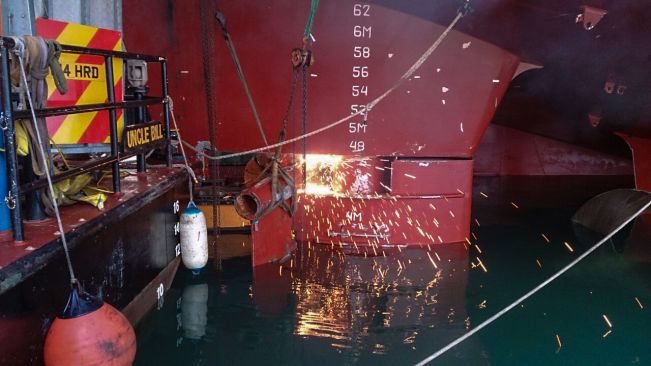 Steel Fabrication (hull and superstructure).

Aluminum fabrication (hull and superstructure).

Hull treatment (Hydro-blasting; grit blasting; painting activities).

Pressurized vessels.

Pipes and valves works.

Repairs services for various equipment on board ie: Engines, Generators, Gear box, Propellers, Stem tube seals, Pumps, Purifiers, Compressors, boilers, Steam installation, fans, Turbo chargers, Fresh water makers and Water treatment system, condensers and Heat exchangers, Winches, Cranes, Electric motors, Stabilizers, Thrusters, Steering system and DP system.

Electrical services.

Hydraulic services.

Tank cleaning.

Carpentry jobs
Workshop services:
Shafting + Propeller Repairs.

Stainless Steel shaft repairs.

Fabrication of IGS fan impellers in stainless steel or bronze.

Dynamic balancing of rotating machinery.

Castings - pump casings + impellers in bronze, cast iron, cast steel.

Equipped workshop: lathe machines, boring machines, milling machines, band saws, CNC cutting machines, steel rolling machines, hydraulic presses and guillotines, laser alignment equipment.
Voyage repair activity: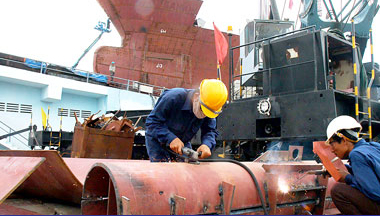 Collision damage and steel renewals.

Afloat repairs and modification in Engine Rooms, on Decks and inside Tanks.

En-route de-slugging of cargo/ballast tanks.

Tank Cleaning.

Hydro blasting and tank coating.

Erection of hinged scaffolding for any outboard jobs.

Overhauling of various machinery and system.

Fabrication and installation of anti piracy measures.

Engineering and preparation of scope of work.
Electronic equipment Repair activity
Maintenance and repair /replacement/ of marine bridge equipment. / Radar's, gyrocompasses, autopilots, echo sounders etc.

Test and maintenance /repair, replacement / GMDSS systems -SART, EPIRB, GPS systems, Satellite systems.

Electronic fire and gas detection systems. TV, audio and video equipment.

Rewinding of motors, generators and transformers.
Hydraulic Services activity:
Build and commissioning of hydraulic power packs.

Repair and maintenance of hydraulic power packs with associated hydraulic devices for different installation like winches, cranes, capstans, cargo pumps, lifts, valves, stabilizers.

Overhauling of cylinders.

Trouble-shooting.

Installation of hydraulic equipment.

Fabrication and installation of hydraulic lines.

Flushing of installation (including in hazardous areas).